Images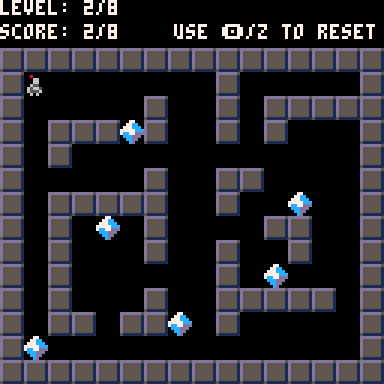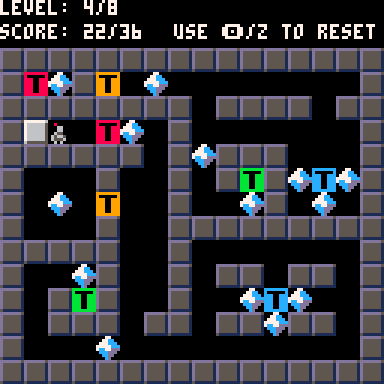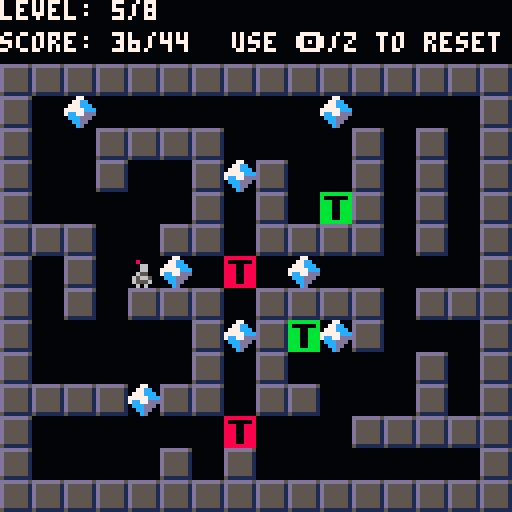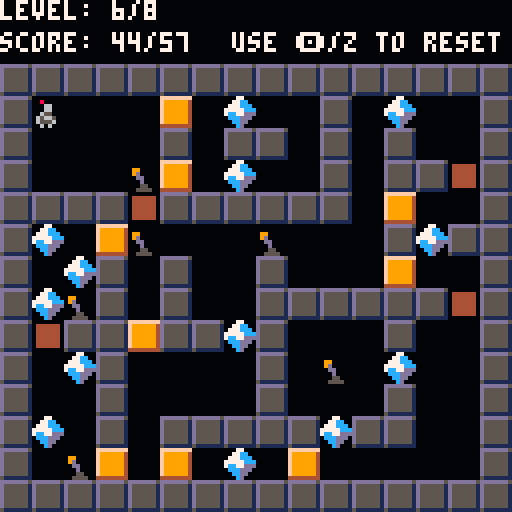 Details
A PICO-8 puzzle game. Takes the basic mechanics of a twitch skill game like Snake or Tron, and puts them into a puzzle context.
Solo project, all art and audio was hand made to match a dark, almost fairytale-esque story.
To facilitate planning, the game is turn based, with no auto move.
Trails stay indefinitely. This prevents backtracking, and gives more weight to each move.
Teleporters and levers were added to give more variety in level design.
Post Mortem
Good
Players really liked the puzzles, felt challenged but not overwhelmed.
I got a lot of value out of just a few elements. The entire game worked with movement, collectables, teleporters and switch blocks.
UI was inspired by the way old NES games tend to just have a small header of text/black tiles overtop the scene, as a result it turned out nice and unobtrusive.
Persistent trails mean that players must be careful with every move.
Teleporters and levers were added to give more variety and challenge to level design.
Bad
Goal of collecting all gems was a fun goal, but it lacked granularity, leading to the frustration when restarting on the last gem.
Implementation of game states + transitions was sloppy.
Dropped plans to include an overworld, in which the player would leave a fixed length trail (allowing them to see all the puzzles, but perhaps using layout to force them into individualized sequences).
Would Do Differently
Stage 7 should have gotten more of a lesson embedded in it. It's generally the least favorite stage among both players and myself.
Would have considered ways to have partial success, perhaps you only need all the gems from X amount of stages. Could lead to either extra replay value (with some stages being optional to visit) or a high score like appeal. This might weaken the teaching of early levels though.
An automatic game over detection algorithm would've been nice.